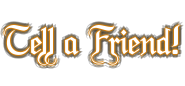 Do you want to get a 25% discount coupon? Do you have a friend that might like to know about SpiritVG? Then this is the right place!
Just type in your e-mail and the e-mail of your friend in the text boxes below, and we will send your friend a link. When your friend clicks the link we will send a new e-mail with a personal discount coupon to each of you.
Very important! Doing this will not include either you or your friend on any e-mail list. If you wish to receive news on SpiritVG or our games, visit our blog and subscribe.